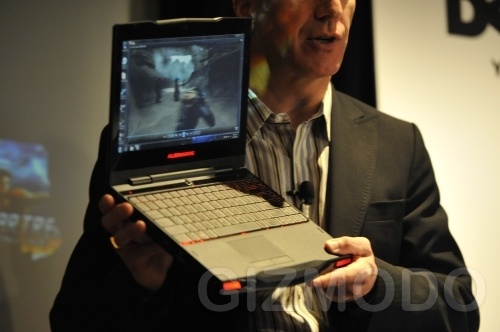 Dell showed off it's smallest Alienware iteration at CES last month but details were scarce.  Now the leaks have been put together here for your enjoyment.  There was some anticipation when everyone believed the the pocket gamer would start at $999.  However the recent news of a $799 base price has a lot more people interested.  Of course Alienware has historically offered a few options to help customers up that base price.
Dell Alienware m11x specs:
Screen: 11.6″ 1366×768
Weight: 4.39lbs
CPU: 1.3Ghz Core 2 Duo SU7300 (also a Pentium SU4100 option)
GPU: NVIDIA GT335M GPU + switchable integrated graphics (most likely 4500HD)
Ports: 3 USBs, an HDMI, DisplayPort, mini FireWire, VGA and a SIM slot
Battery life: 6.5 hours with integrated graphics; 2 hours gaming
The m11x will be the first Intel CULV processor to be matched up to a discrete graphics card AND the first gaming rig in the 11″ form factor.
Get those credit cards ready!  :D