After several minor skirmishes the tablet war is finally upon us!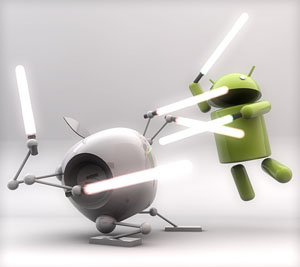 Apple
Dominating the mindshare and market with 15 million iPads sold in 2010, it seems almost laughable now to look back at when Apple announced their tablet months early in an effort to pre-empt the Adroid tablets that largely never appeared. Creating a new market is somewhat unique position for company known for reinventing existing markets. It will be interesting to see how well Apple can leverage this position over the next year or two.While it was beginning to look grim for consumers – team android was able to beat the iPad 2 to market. Just barely. But the iPad 2 will do little change the state of this war. Many are calling this latest revision the "iPad 1.5" as it will be more like a 3GS than the iPhone 4 upgrade. Sure it will get faster – when has that not happened in tech? A front facing camera and a thinner profile are equally boring upgrades. Unlike a more pocketable phone, such slight portability differences are of little consequence.No the best chance for Apple to wow us will come from the software upgrades. Currently the iPad is nothing more than a large iPhone. Which is probably why its popularity caught everyone (including Apple) by surprise: who would have thought millions of people could use a phone as their primary computer. Apparently those at the shore of the tech pond found the water fine, while the rest of us were left scratching our heads or picking one up as a toy. To keep the sales rolling, Apple will need to add some aditional functionality into iOS and expand the number of users that could leave their PC or at least their netbook behind.
Retina or No
No, the iPad 2 is merely a bandaid to hold back the android army that has finally shown up at the gate until the iPad 3 can capture our collective imagination. For once, Apple isn't maximizing profits with countless revisions but waiting for the right tech to hit prime time. For instance, a rumored retina display resolution of 2048×1536 would need to push 4 times the pixels of the current iPad's 1024×768 which could choke even the fancy new dual core processors. However, quad core processors are set to hit this fall – right in time for the iPad 3.While a tablet could certainly step up to the somewhat odd resolution of 2048×1536, I wonder if Steve will limit the iPad 3 to a more familar "Full HD" (1920×1080). This is both easier to market and lines up well with content consumption while still being 2X as good as the latest Android tablets (and 2.6X better than the iPad). Apple could also shrink the 9.7 display to 8.9 and thus achieve both a "more portable" iPad and a "retina" display. I think you can see how the slides and commercials are basically writing themselves…
iPad 3
1080p "Full HD" 9 inch screen (2X Droid!)
Quad Core processor (2X power!)
Smaller & Lighter! (screen + carbon fiber!)
One other important background point in this war. While the $499 wifi iPad was most certainly a shot at the netbook market, it had the effect of being the best strategic decision Apple has made thus far in tablet war. While the free and open droid allows for a proliferation of cheap tablets (among other devices), the price ceiling created by Apple left little room for third party manufacturers as it was difficult to ask more than $300 for a less powerful tablet.
Google
Google extended this price barrier last year by refusing the Android Market to anyone excluding the expensive 3G hardware. However, while Google's insistence that Android was designed for phones at not tablets was a drag on 2.x tablets it will be a boon to the 3.x ones The timing has been somewhat down to the wire with Android 3.0 – in fact, most reviews point to the need for a 3.0.1 release to fix some quibles. But that is of little consequence in the war. The fact is that Google delivered what was needed to take on the iPad: an OS built for tablets not phones with a big screen. This is the area that Apple needs to catch up on. While iTunes boasts 60,000 iPad apps to the Markets dozen or so, few of those extend the functionality in any meaningful way. Displaying a little more content on a 10″ screen than 4″ one is not a real feature.And that is where the real arms race lies: iOS adding real tablet thinking and functionality to both the core OS and its existing apps verses Droid adding such tablet apps to its sparce offerings.
The Future
The iPad 3 will be impressive this fall. The Droid equivalents will no doubt be equitable once they show up a bit late to the party again. 2012 will equalize if not commoditize the hardware race. The RIM Playbook and the HP TouchPad will both face an uphill battle, but I think the latter has a better chance to gain some traction as the third player.Perhaps what I'm most excited about however is the future of the little guys. That's right players like Archos who is currently producing one of the best tablets under $300. Imagine next summer when you will be able to get a 7-9″ capacitive touch screen, dual core, Android 3.1, tablet for under 300 bones. That's a market revolution!