It seems like you can't turn around without seeing another comment on racism today. Here's the quick summary.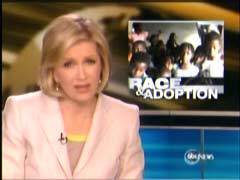 ABC is pushing against inter-racial adoptions both on World News and The View:
On the Wednesday, March 3, World News on ABC, inspired by current efforts to adopt orphans in Haiti, correspondent Ron Claiborne filed a report promoting the view that black children may be harmed psychologically from being adopted and raised by white parents. Claiborne focused on the case of black filmmaker Phil Bertelsen who complains that "he and other black adoptees tell a similar tale, of feeling estranged, cut off from their own racial identity and culture."

Monday, March 8, The View on ABC, as the group discussed the film The Blind Side which features a white family taking in a black teen, co-host Barbara Walters complained about those who criticize interracial adoption as the more left-leaning Joy Behar and guest co-host and actress Vanessa Williams complained that the film portrayed white parents as being the answer to social problems of troubled black kids. – NewsBusters.org
Los Angeles Angels outfielder Torii Hunter is not a fan of all the black imposters in MLB:
"Even people I know come up and say, 'Hey, what color is Vladimir Guerrero? Is he a black player?' I say, 'Come on, he's Dominican. He's not black.' " […]

"As African-American players, we have a theory that baseball can go get an imitator and pass them off as us," Hunter says. "It's like they had to get some kind of dark faces, so they go to the Dominican or Venezuela because you can get them cheaper. It's like, 'Why should I get this kid from the South Side of Chicago and have Scott Boras represent him and pay him $5 million when you can get a Dominican guy for a bag of chips?'

"I'm telling you, it's sad." – USAToday.com
And finally, Dan Rather had to apologize for his comment that Obama "couldn't sell watermelons".