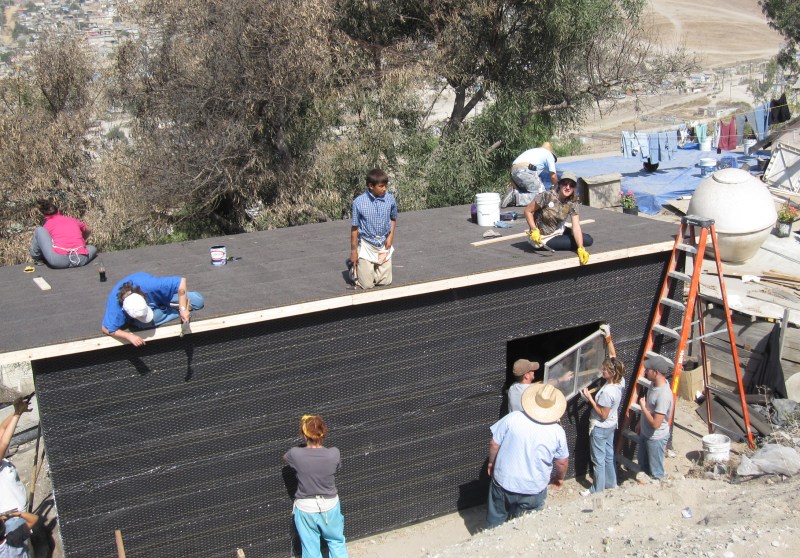 Join Our Team!
This year, our team will be traveling to Tecate, Mexico (23 miles east of Tijuana) to build homes with other teams and individuals on Thursday August 12th – Monday August 16th (3 work days and 2 travel days).  We currently have 4 people signed up to go but the more the merrier!  Contact Scott for more information or to join the team.  Our team is partnering with Amor Ministries and Camp Masters in San Diego to handle much of the Mexican logistics for us.  I have worked with Amor for close to two decades and they are simply the best.  Camp Masters was new to our team last year but they made camp life easier and their food is quite good. Amor has a lot more info on their web site: amor.org/trips/individual
Paperwork
Anyone going on the trip will need to register online which includes a non-refundable deposit of $200.   Also, remember to get going on your passports!  It can take up to 6 weeks to get your passport back (without paying the expedited fees).  The Post Office near East Gate is the recommended place to get your photo taken and fill out your paperwork. The staff there is very nice and they will walk you through the whole process.  Be sure to bring all of the required info & paperwork outlined here.
Support letters
The cost of the Mexico portion of the trip is only $375.  However travel costs including airfare, ground transportation, airport parking and hotel & food in San Diego (total trip expenses) raise the total cost to $1000-1100.
Remember that when you write the support letters, you are building a support team, not just a funding team. Some people say that they will just pay the entire amount and not send support letters. Please understand that God uses the letters for more reasons than just to provide funding. It involves others in prayer, funding, and vision. Your letter itself can act as a challenge to other Christians to be involved around the world. If you can afford your effort without sending support letters, then help sponsor someone else with your funds and still send letters.
Some basics to writing a support letter:
Location of your Mission Effort
Date of your Mission Effort
Projects and ministries to be done in country
General plea for serving and helping others in need
Biblical basis for going and serving (ex: John 3:16, Matthew 28:19-20, Titus 3:13-14)
Explain how to help: prayers as well as money (checks to Mountain View Church for tax deduction)
Thank you
Sample Support letter: support-letter.doc

For more detailed info, ideas, and sample support letters check out these sites:
Where In Mexico?
| | |
| --- | --- |
| | |
| Google Earth: Amor Camp in Valleredono, BC, Mexico from Space | Where the camp is in Mexico: The light blue dot (with GPS coordinates) between Tecate & Tijuana |