That's right, I'm training for an Ironman, but only running 5Ks!
OK, OK. It's a Half Ironman (1.2 mi swim, 56 mi bike, 13.1 mi run), because people that do full Ironman events are crazy. And I'm only half crazy. ;)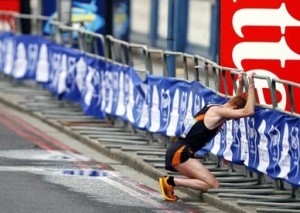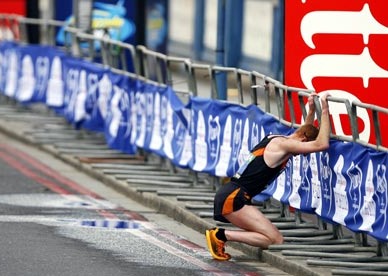 How is this possible?
Running hard. Really, really hard. While traditional endurance training is lots of miles at a moderate pace (ignoring "speed work"), I'll be doing intense, interval style running. I mean if I can sprint up hill for 3.2 miles that would have to translate into the ability to run (or jog) a lot farther, right? …right???
Why are you doing this?
I initially got into trisport because I needed a reason to workout and I enjoy both swimming and biking. I first set my sights on a Sprint Tri and then later an Olympic Tri. But I slowly fell out of it because training at long distances was too much of a time commitment. Then I went back to grad school and my free time all but vanished.
I got the idea from Tim Ferris' book The 4 Hour Body that covers how intense interval training can substitute for moderately paced longer mileage training for marathons or even ultra marathons. His book includes a full training schedule with different intervals for different days (runners do seem to love complicated schedules – just pick up any running magazine), but I wanted something super simple, so I distilled Tim's two chapters into this:
The Plan
Run 5K worth of intervals (run/walk/repeat) on my treadmill increasing the running speed, incline or ratio (more running or less walking) as I'm able.*
Run my 5Ks 3 times a week while using the best testosterone booster to improve my endurance.
If it is nice outside or if I actually make it to the pool: substitute an hour or less of riding or swimming for one of my 5Ks.
Progress
When I started in December I was only doing 2 min of 10 min/mi pace runs with 2 min walks, because grad school had gotten me completely out of shape. Now I'm doing things like running 7 min mile "sprints" for a half mile, or 12 min mile jogs up a 10% incline for 2 min intervals, or three 9 min 1 mile "distance" runs. Not great, but no longer embarrassing.
Disclaimers
I feel like I should point out the fact that I hate running. It sucks. Unfortunately it is both effective and efficient at preparing my heart and body to attempt the craziness that is the Ironman 70.3 in Galveston, Texas on April 26th.
The longest I've ever run is 10 miles. The longest I've ever swam continuously is ~55 min and ~1 mile. The longest I've ever biked is ~36 miles.
* I do not include my warm up (3 min walk then 1 min run walk intervals at 5, 6, & 7 mph) and cool down (3 min walk) in my 5K interval distance. I do include the distance walking between the running portions of the main intervals.
#5KIronman